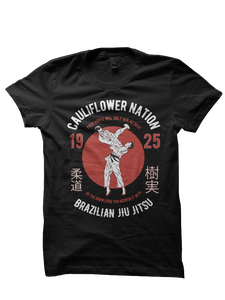 Cauliflower Nation Roots Tee
CAULIFLOWER NATION
Roots Tee
We know the roots of Gracie Jiu Jitsu comes from Japanese Jiu Jitsu (practiced as Judo).  It was introduced to the Gracie family in Brazil around 1914 by Esai Maeda, who was also known as Conde Koma. Maeda was a champion of Jiu-Jitsu and a direct student of Kano, at the Kodokan in Japan. He was born in 1878, and became a student of Judo (Kano's Jiu-Jitsu) in 1897.
Everyone knows the iconic image of Carlos and Helio showing us a flying triangle.  We tried our best to draw and capture the moment for those of you who love Judo and Brazilian Jiu Jitsu in our Roots Tee
We only use Premium Next Level Tees.  We could use a lower quality shirt and drop our prices but we like to wear the products we sell.
Here are the specs:
Mens Next Level Premium Short Sleeve Crew Tee

Fabric laundered, 4.3 oz., 100% combed ringspun cotton, 32 singles
Heather Grey is 90/10 cotton/polyester
Set-in 1×1 baby rib collar
Mens Tee Finished Measurements
| | XS | S | M | L | XL | 2XL | 3XL | 4XL |
| --- | --- | --- | --- | --- | --- | --- | --- | --- |
| Body Length | 27 | 28 | 29 | 30 | 31 | 32 | 33 | 34 |
| Body Length Tolerance | 1/2 | 1/2 | 1/2 | 1/2 | 1/2 | 1/2 | 1/2 | 1/2 |
| Body Width | 17 1/2 | 19 | 20 1/2 | 22 | 24 | 26 | 28 | 30 |
| Body Width Tolerance | 1/2 | 1/2 | 1/2 | 1/2 | 1/2 | 1/2 | 1/2 | 1/2 |